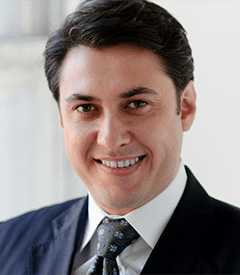 PROFESSIONAL QUALIFICATIONS AND AWARDS
I am an American-trained litigator and an international arbitration specialist with over fifteen years of legal experience. To date, I have been involved in more than sixty international arbitration and litigation cases in commercial, investment, business-of-sports, and public international law disputes before ICC, ICSID, LCIA, ICDR, BCCI, VIAC, RCC, and UNCITRAL ad hoc tribunals, US and EU courts, as well as supra-national fora such as the European Court of Human Rights and the International Court of Justice.
Prior to qualifying in the US through a J.D. from Columbia Law School, I was a practicing EU lawyer based in Sofia, Bulgaria (Mag. Iur., St. Klement Ohridsky, University of Sofia). The highlights of my practice in the EU included the defense of a sovereign in a set of international arbitration disputes with a joint venture of construction heavyweights, the defense of the largest EU-wide contested merger before the European Commission, and various international arbitration and litigation matters involving IP, M&A, antitrust (hostile takeovers), cross-border commodities supply, complex infrastructure projects, and the energy (oil & gas and electricity production/distribution) industry.
After my transition to the US, I spent time in three of the largest international arbitration practices out of Washington D.C., New York, and Paris, France. As part of these teams, I have represented private parties and sovereign bodies in numerous high-stake construction, energy, global distribution, infrastructure, finance, insurance/reinsurance, and telecommunications disputes in commercial and investment arbitration cases.
In 2012, I accepted a position to serve as the Senior Researcher to the Chief Reporter on the Restatement of the US Law (III) of International Commercial Arbitration at the American Law Institute. I returned to full-time private practice in 2014 with the development of two ICSID investment arbitration cases in the renewable energy and banking industries in Europe. Around the same time, I began to teach International Arbitration at the International Arbitration Training & Assistance Institute and the Fordham Law School. I have also been invited to teach at Columbia Law School.
In 2015, I founded the International Arbitration Chambers New York as my own independent international arbitration practice. In the past 5 years the practice grew by leaps and bounds becoming one of New York's busiest specialized international arbitration practices. In 2020, the practice expanded its physical presence to London with the addition of Prof. Berk Demirkol who brings first-rate credentials and unparalleled depth to our investment arbitration offering.