Nikolay A. Ouzounov, Esq.​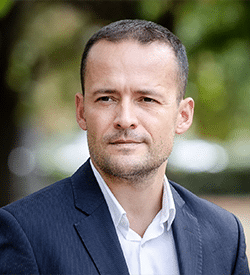 PROFESSIONAL QUALIFICATIONS AND AWARDS​
I am a seasoned international law specialist with over 15 years of experience from both sides of the Atlantic. As international arbitration counsel, I concentrate my practice on advising foreign investors in investor-state disputes under the ICSID and UNCITRAL Rules. I have counseled Scandinavian, Dutch, and French investors in various investment disputes against governments in Central and Eastern Europe. The disputes cover a wide range of industries from banking and real estate to mining and waste management and total more than $10 billion in controversy. As counsel, I am actively involved in the whole life cycle of the dispute – from evidence gathering and the request to arbitrate to the issuance of the final award and its enforcement. In addition to international arbitration, I assist international organizations representing atrocity victims with international law questions related to human rights abuses in West Africa. Presently, I split my time between New York and Sofia, Bulgaria.
I began my career at the Chicago office of a boutique law firm where I practiced international trade law and appeared before state and U.S. federal courts. Subsequently, I was a senior associate at the Sofia office of a London-based international law firm where I was involved in cross-border transactions and international investment disputes on behalf of foreign investors. I hold an LL.M. from Columbia Law School in New York and a J.D., cum laude, from the University of Illinois Chicago School of Law where I served as a Lead Articles Editor on the Law Review Board.
Vasilisa Ershova and Jegor Jeršov v. Republic of Bulgaria, ICSID Case No. ARB/22/29 (Mr. Jan Paulsson, Prof. Juan Fernández-Armesto, Mr. Toby Landau, KC)(opp. counsel White & Case LLP)

Investment arbitration under the Energy Charter Treaty arising out of the wrongful taking of the shares in the country's legacy and largest fuels distributor and fuels storage facilities operator from Mr. Denis Jeršov – a Lithuanian national, and the largest foreign investor in Bulgaria's oil and gas industry in the post-communist era.
Scandinavian Investor v. Eastern European Government (opp. counsel White & Case LLP)
Represented investor in an investment arbitration case arising from the termination of long-term waste management concession agreements. Proceedings were voluntarily discontinued pursuant to ICSID Arbitration Rule 45.
Dutch Investor v. Eastern European Government (opp. counsel White & Case LLP)

Represented investor in an investment treaty arbitration arising from the unlawful termination of waste management concession agreements. Participated in all stages of the dispute from fact-finding to drafting the request for arbitration, memorials, witness statements, and the final hearing.
French Investor v. Eastern European Government (confidential)
Assisted French investor with evidentiary issues in an investment treaty arbitration under the UNCITRAL Rules. The arbitration involved expropriation of assets in the real estate, banking, mining, and shipbuilding sectors. The amount in dispute was in excess of $10 billion.
United States – Peru Trade Promotion Agreement, 35 INT'L L. NEWS 5 (Fall 2006)
Case Note, U.S. Appeals Court Bars Kenyan Terrorism Injury Claims, 33 INT'L L. NEWS 22 (Spring 2004)