Solicitor and Tenured Professor of Law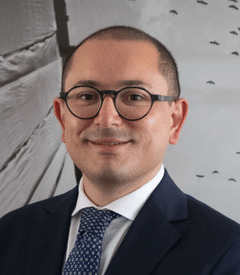 PROFESSIONAL QUALIFICATIONS AND AWARDS​
I am a dual-qualified lawyer admitted to practice in England & Wales and Turkey with over 10 years of international arbitration experience. I hold a Ph.D. in International Investment Law from the University of Cambridge in the UK. My thesis "Judicial Acts and Investment Treaty Arbitration" was published by Cambridge University Press and was awarded the International Chamber of Commerce World Business Law Prize.
I combine practice as counsel, arbitrator, and expert in treaty and commercial arbitration cases, alongside my academic career. I have taught at the Centre for Commercial Law Studies (CCLS) of the Queen Mary, University of London, and hold a tenured professor (docent) position at the Galatasaray University Law School in Istanbul, where I teach International Investment Law and Arbitration, International Commercial Litigation, and Private International Law.
I am an ICC Turkish National Committee member. I am also a member of the ISTAC Expert Commissions on the Revision of the ISTAC Arbitration Rules, and I am responsible for all contributions regarding Turkey to the 1958 New York Convention Guide database maintained by Columbia Law School in New York, as well as the "Investment Claims" database of the Oxford University Press. More recently, I have also contributed to Investment Law and Arbitration Wiki for Jus Mundi.
Mr. Plamen Genchev v. Bulsatcom Holding Limited (UNCITRAL ad hoc)(Mr. John Fellas, Ms. Juliet Blanch, Mr. Christopher Style, Q.C.)(opp. counsel Quinn Emmanuel Urquhart & Sullivan LLP)
International arbitration seated in London over the exercise of a call option under a Shareholders' Deed governed by English law, regarding the acquisition of the largest independent telecommunications company in Southeast Europe. € 102 m. in dispute.
Moti Ramot & Rami Levy v. The Republic of Bulgaria (ICSID Case No. ARB/18/47)(Prof. Stephan Schill, Dr. Bernardo Cremades , Ms. Loretta Malintoppi)(opp. counsel White & Case LLP)
Indirect expropriation case arising out of the judicial taking of a company that developed a luxury real estate project in Sofia, Bulgaria. The clients are one of the State of Israel's most prominent entrepreneurs, Mr. Rami Levy, and his business partner on the affected project, the late Mr. Moti Ramot. $ 65 m. in dispute. Defeated Respondent's discovery and bifurcation requests. Awaiting Counter-Memorial on jurisdiction, merits, and damages.
Party-Appointed Expert ICSID (confidential)
Appointed as expert in a pending ICSID case concerning the taking of a foreign investor's license in the mining space.
Turkish State-Owned Aerospace Company v. USA Company (ICC Case No. 20932/GFG/FS)(Dr . Xavier Favre-Bulle, Niuscha Bassiri, Yasmine Lahlou)(opp. counsel Loyens & Loeff)
A dispute concerning international sale of aerospace production. $14 m. in dispute. Defeated Respondent's bifurcation request. Awaiting full hearing on jurisdiction and merits.
Turkish Construction Company v. Kazakhstan Development Authority (SIAC Paris)
Securing an injunction from an emergency arbitrator sitting in Paris under the SIAC Arbitration Rules enjoining the defending party from cashing in letters of guarantee in a construction dispute arising out of a development in Kazakhstan. $25 m. in dispute. Prof. Demirkol left the team after the issuing of the injunction.
Turkish Company v. Swiss Bank (ICC Case No. 19322/AGF/ZF)(Prof. William W. Park, Daniel Toledano QC, Prof. Osman Berat Gürzumar)(opp. counsel Semizer Law)
Successfully defeated a $150 m. claim arising out of dispute over commercial real estate leases.
Large Construction & Real Estate Developer v. Leading Turkish Football Club (confidential)
Advising a large construction and real estate company in relation to a prospective arbitration arising out of commercial real estate development contract with a leading Turkish football club.
Financial Advisors v. UAE Corporation (UNCITRAL Ad Hoc Switzerland)(confidential)
A dispute over consultancy fees. Awaiting constitution of the tribunal.
UK Private Equity Group v. Mining Company (ICC Case No. 20548/ZF)(Prof. Wolfgang Wiegand, Stewart Boyd QC, Prof. Osman Berat Gürzumar)(opp. counsel Herbert Smith Freehills LLP)
Advised the legal team representing respondents in a $700 million claim initiated against former shareholders of a mining company.
Multinational Private Equity Firm v. Real Estate Developers (confidential)
Advised a multinational private equity on a prospective arbitration dispute arising out of several construction project management agreements
Bawabet Al Kuwait Holding Company v. Arab Republic of Egypt, ICSID Case No. ARB/11/6 (Prof. Bernard Hanotiau, Philippe Sands, Teresa Cheng)
Assisted in the representation of Egypt on claims arising out of the Government's cancellation of the free-zone status in which the claimant's fertilizer company operated, along with the increase in the price of gas supplied under certain contract. Claims amounted to over $ 400.00 mln.


Hussain Sajwani, Damac Park Avenue for Real Estate Development S.A.E. and Damac Gamcha Bay for Development S.A.E v. Arab Republic of Egypt, ICSID Case No. ARB/11/16 (Pierre Tercier, Toby Landau, Daniel Price)
Assisted in the representation of Egypt on claims arising out of the Government's conviction of Mr. Sajwani and Egypt's minister of tourism in absentia on grounds of corruption, concerning the investor's acquisition of land in Gamsha Bay for the development of a residential complex.


OAO Gazprom v. The Republic of Lithuania, PCA Case No. 2012- 13 (UNCITRAL)(Judge Bruno Simma, Prof. Karl-Heinz Böckstiegel, Vaughan Lowe Q.C.)
Assisted in the representation of the Republic of Lithuania on claims arising out of the alleged forced sale of Gazprom's stake in Lietuvos Dujos, Lithuania's gas distribution company, in the context of an EU-mandated gas market reform.


EDF International S.A. v. Republic of Hungary (UNCITRAL)(Prof. Karl-Heinz Böckstiegel, Pierre M. Dupuy, Prof. Albert Jan van den Berg)
Assisted in the representation of the investors on claims arising out of the Government's termination of certain long-term power purchase agreements concluded between EDF's local subsidiary and the State-owned energy company MVM, following a ruling by the European Commission declaring that the agreements were illegal under EU State aid rules and should be terminated.


Orascom TMT Investments S.à.r.l. v. People's Democratic Republic of Algeria, ICSID Case No. ARB/12/35 (Prof. Gabrielle Kaufmann-Kohler, Prof. Albert Jan van den Berg, Prof. Brigitte Stern)
Assisted in the representation of the Republic of Algeria on claims arising out of an alleged campaign of interference and harassment by the Government against a local telecommunications company in which the claimant had invested, including tax reassessments and an attempted forced sale of part of the company to Algeria. The case involved claims for over $700 m. and was dismissed in its entirety with an order for costs in favor of Algeria.
Books:
Arbitration and Applicable Law (editor in Turkish with Ziya Akıncı), 479 pages (Istanbul: On İki Levha, 2021)
Judicial Acts and Investment Treaty Arbitration (in English), 290 pages(Cambridge University Press, 2018)
Med-Arb in Turkey (in Turkish with Ural Aküzüm), 150 pages(Istanbul: On İki Levha, 2020)
Choice of Court Agreements in Private International Law (in Turkish), 293 pages, see: https://www.vedatkitapcilik.com/milletlerarasi-yetki-anlasmalari-u-13699.html (Istanbul: Vedat, 2018)
Law Applicable to Contracts (in Turkish), 426 pages, see: http://www.vedatkitapcilik.com/sozlesmeye-uygulanacak-hukuk—milletlerarasi-ozel-hukuk-ve-usul-hukuku-hakkinda-kanunun-24-maddesi-cercevesinde–u-6043.html (Istanbul: Vedat, 2011; second edition, 2014)
Articles and Presentations:
"Summary and Digest on von Pezold v Zimbabwe", in Jorge Vinuales / Michael Waibel (eds), ICSID Reports, Vol 18 (CUP, 2020) 360-379
"The Effects of COVID-19 on Time Limits in Arbitral Proceedings' (in Turkish), in Muhammet Özekes (ed), Legal Dimensions of the COVID-19 Pandemic (Istanbul: On İki Levha, 2020) 115-130
"Breach of the Arbitration Agreement: Potential Remedies" (in Turkish), in Hatice Özdemir Kocasakal / Süheyla Balkar (eds), Arbitration Agreement,(Istanbul: On İki Levha, 2020) 169-183
"Exhaustion of Local Remedies and Wrongful Judicial Acts other than Denial of Justice", (April 2019) Transnational Dispute Management (TDM)
"Non-treaty Claims in Investment Treaty Arbitration", (2018) 31 Leiden Journal of International Law 59-91
"J. Baumgartner, Treaty Shopping in International Investment Law", (2017) 64 Netherlands International Law Review 537-539
"Multi-Party Arbitration" (in Turkish), in Zeynep Derya Tarman (ed), Genç Milletlerarası özel Hukukçular Konferansı (Istanbul: On İki Levha, 2018) 43-71
"Validity of Non-Exclusive Arbitration Agreements" (in Turkish), (2017/2) Galatasaray Üniversitesi Hukuk Fakültesi Dergisi (Journal of Galatasaray University Faculty of Law) 325-354
"Ordering Cessation of Court Proceedings to Protect the Integrity of Arbitration Agreements under the Brussels I Regime", (2016) 65(2) ICLQ 379-404
"Interpretation of the Dispute Settlement Clause in Turkish Investment Treaties with Turkic States", (2016) 32(1) Arbitration International 29-43
"Nationality under International Law: Questioning the "Effective Nationality" Requirement for Natural Persons" (in Turkish), (2015/2) Galatasaray Üniversitesi Hukuk Fakültesi Dergisi (Journal of Galatasaray University Faculty of Law) 159-193
""Investor's Unlawful Act in Investment Arbitration and the Application of Contributory Fault in the Yukos v Russia Case" (in Turkish), (2015) 31(3) BATIDER 77-108
"Remedies in Investment Treaty Arbitration", (2015) 6(2) Journal of International Dispute Settlement 403-426
"Investor's Unlawful Act in Investment Arbitration and the Application of Contributory Fault in the Yukos v Russia Case" (in Turkish), (2015) 31(3) BATIDER 77-108
"Enforcement of International Commercial Arbitration Agreements and Awards in Investment Treaty Arbitration", (2015) 30(1) ICSID Review 56-77
"The Notion of "Investmen" in International Investment Law", (2015) 1(1) Turkish Commercial Law Review 41-50
""Investor's Unlawful Act in Investment Arbitration and the Application of Contributory Fault in the Yukos v Russia Case" (in Turkish), (2015) 31(3) BATIDER 77-108
"Does an Investment Treaty Tribunal Need Special Consent for Mass Claims", (2013) 2(3) Cambridge Journal of International and Comparative Law 612-639
"Jurisdictional Problems Concerning Shell Companies in Investment Arbitration and the Libananco Case" (in Turkish), (2012) 28(3) BATIDER 301-357
'Doctrine of Separability: Does it have any role in the determination of the law applicable to arbitration agreements?' (Society of Legal Scholars Conference, University of Exeter), 3 September 2020
"Provisional Measures in Arbitration", Party Representation in Arbitration (ISTAC & Istanbul Bar, Istanbul), 1 February 2020
"Breach of the Arbitration Agreement: Remedies and Potential Rights of Action", Arbitration Agreements (University of Galatasaray, Istanbul), 10 May 2019
"Extension of the Arbitration Agreement to Third Parties", School of Arbitration (Marmara University, Istanbul), 27 March 2019
"Is There any Room for Non-Pecuniary Remedies in Investment Treaty Arbitration", Rethinking Reparations in International Law (University of Cambridge), 16-17 November 2018
"Holding the State Responsible Directly for the Breach of the New York Convention in Investment Treaty Arbitration", International Investment and Trade Agreements: Current Developments and Problems (University of Marmara, Turkey), 25 October 2018
"Multi-Party Arbitration Proceedings" (in Turkish), Young Private International Lawyers Conference (Koç University), 1 June 2018, published in Zeynep Derya Tarman (ed), Genç Milletlerarası Özel Hukukçular Konferansı (Istanbul: On İki Levha, 2018) 43-71
"Direct Responsibility of the State for the Breach of the New York Convention in Investment Treaty Arbitration", Foreign Arbitral Awards International Conference (University Loyola Andalusia, Spain), 4-6 April 2018
(with Oğuz Dorken) "Mondialisation et Investissement en Turquie" ("Globalization and Investment in Turkey") (in French), Travaux de l'Association Henri Capitant (Journées allemandes), 23-27 May 2016, published in La mondialisation: Journées allemandes, Vol 66/2016 (2017, Bruylant) 651-658